Submitted by

fp1

on Thu, 2014-04-10 11:32
For Immediate Release:
April 10, 2014
Contact: Colin Dunn
(202) 400 – 2609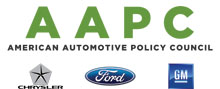 Statement on AAPC Participation in TPP Forum

Washington, D.C. – American Automotive Policy Council President Matt Blunt today issued the following statement following his participation in the Washington International Trade Association event: Update on TPP: The End-Game Dynamics Explained.
"Today, I had the privilege of joining industry experts in a discussion on the Trans-Pacific Partnership (TPP). The panel was an occasion to discuss the benefits, and potential risks, of TPP, and the need for strong and enforceable currency manipulation disciplines.
"TPP presents an extraordinary opportunity for automakers to export more American vehicles, and to expand the number of high-quality jobs created by Chrysler, Ford and General Motors here in the United States. However, in order for TPP to live up to its potential of being a high standard, 21st century agreement, currency manipulation and all non-tariff barriers must be addressed. Nations such as Japan cannot be allowed to continue one-sided, mercantilist trade and currency policies that unfairly subsidize domestic industries at the cost of American jobs.
"As TPP talks continue, AAPC urges U.S. negotiators to include currency disciplines in the final pact to ensure trade benefits are not undermined by currency manipulation."
For more information go to: http://americanautocouncil.org/TPP.

The American Automotive Policy Council, Inc. (AAPC) is a Washington, D.C. association that represents the common public policy interests of its member companies Chrysler Group LLC, Ford Motor Company and General Motors Company.

###