Submitted by

fp1

on Tue, 2014-04-08 09:34
For Immediate Release:
April 08, 2014
Contact: Colin Dunn
(202) 400 - 2609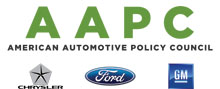 AAPC Statement on the 2014 Kogod Made in America Auto Index
WASHINGTON, D.C. – American Automotive Policy Council President Matt Blunt today issued the following statement on American University's 2014 Kogod Made in America Auto Index that found Chrysler, Ford and GM comprised the top 10 most American-made vehicles.
"The 2014 Kogod Made in America Auto Index remains the most scientific approach available to determine the real extent of how American-made a car or truck is.  In addition to the domestic content of the vehicle, the Made in America Index also incorporates key elements like U.S. employment, R&D, and where the vehicles and engines are produced.  These factors help provide a more complete picture of the contribution of a vehicle to the U.S. economy.
"We're proud to see the top 10 automobiles in this study are produced by the American automakers. U.S. auto manufacturers support millions of jobs throughout the country, conduct most of their R&D in the U.S., and are significant exporters of American-made vehicles.
"Chrysler, Ford and GM continue to drive job growth here at home as they compete globally. We welcome the recognition of these companies' 'Made in America' vehicles."
The American Automotive Policy Council, Inc. (AAPC) is a Washington, D.C. association that represents the common public policy interests of its member companies Chrysler Group LLC, Ford Motor Company and General Motors Company.
###